Why is it so awesome?
Whiteboard.fi is a simple tool that can be used instantly. Create a class and let your students join, using a link, room code or QR code.

Everyone will get a digital whiteboard, where they can draw, write text, make notations on images, add math equations, and more!

You as a teacher see all your students' whiteboards in real time, so you can follow their progress, while the students only see their own whiteboard and the teacher's.

Whiteboard.fi is an instant formative assessment tool for your classroom, providing you with live feedback and immediate overview over your students.

Engage your whole class, include every student and let everybody answer - including the shy students or students who normally wouldn't bother to answer!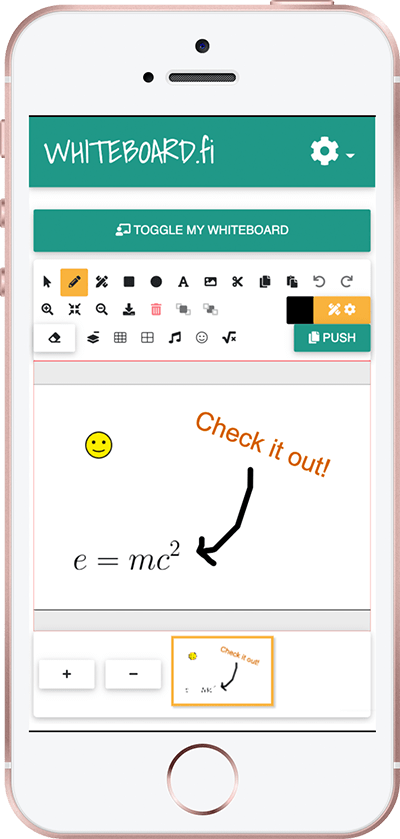 Instant Access
Setting up a new class whiteboard is lightning fast! No registration or logins needed!
Device Independent
Works on any device - no installation or downloads needed.
Privacy
No personal information is shared with third parties. Everything is deleted after the room is closed.
Access Control
You have full control of who enters your room by using the waiting lobby. There is also an option to lock your room after your class has started, preventing new users from joining.
Live Overview
Ask a question, and let the whole class answer by using Whiteboard.fi. This way you will activate the whole class, and everybody gets the opportunity to answer!
Versatile Tools
Insert images, backgrounds, arrows, shapes and texts! There are many different, versatile tools available.
Math
Insert math symbols, expressions or equations easily using the math editor, where you can type using a graphical interface or insert LaTeX code.
Emojis
Including over 1000 emojis that can quickly be inserted into the whiteboard.
Save Whiteboards
You can easily save all your student whiteboard images as a PDF file that can be saved locally to your device.
Push Whiteboards
Easily send your current whiteboard to all students! You can upload an image, and let your students draw on it, make annotations or arrange items.
Co-teach
Invite a co-teacher and enjoy a shared session! You both see all students and can collaborate on the same whiteboard.
Upload PDFs
Upload PDFs and insert them as backgrounds, to easily annotate or draw upon your documents.
Library
Prepare, save and reuse your whiteboards - and keep them in your personal library!
Feedback
Give quick feedback to your students! You can send comments, or quick thumbs up/down or like icons.
Student Session
Join your student's whiteboard session and collaborate / draw on the same whiteboard in realtime! Coming soon

Subscription license required.
---
Pricing
We offer three different plans for Whiteboard.fi. The FREE plan can be used without any user account.
You can choose between annual or monthly billing, and you can purchase individual licenses or multiple licenses for a larger team, school or district. Interested in bulk quotes?

The buyer receives a license code that can be shared with the teachers in order for them to activate their accounts. The purchaser does not need a Whiteboard.fi user account in order to make the purchase.
FREE
$0.00
/month
---
Temporary rooms without registration

Invite co-teachers: shared collaboration session.

Upload PDFs: Easily insert PDF pages as background and annotate the pages.

No Ads

Higher resolution: Larger resolution on whiteboards.

Permanent room URL: Keep same URL and re-user room code for easy link sharing.

Library: Prepare, save and reuse whiteboards.

Feedback: Draw on student whiteboards and give instant feedback.
Start free room
BASIC
$4.99
/month
When billed annually
---
Teacher account

Invite co-teachers: shared collaboration session.

Upload PDFs: Easily insert PDF pages as background and annotate the pages.

No Ads

Higher resolution: Larger resolution on whiteboards.

Permanent room URL: Keep same URL and re-user room code for easy link sharing.

Library: Prepare, save and reuse whiteboards.

Feedback: Draw on student whiteboards and give instant feedback.
Purchase license
Prices excluding VAT (where applicable). Subscriptions are billed annually or monthly.
We offer a FREE 7 day trial where you can test the Premium subscription!
Register as a teacher to start your trial - no credit card required.
---
FAQ and Help
Whiteboard.fi is really easy to use. We have collected answers to frequently asked questions and help topics in our Support portal.
SUPPORT.WHITEBOARD.FI
---
About
Whiteboard.fi is created by Sebastian Laxell and Jaakko Virtanen, and is run by Digital Teaching Tools Finland Ltd. We have experience in teaching and IT-management - so we know the struggle in finding good digital tools.

"It's not about the tools - it's about the teachers. But the best teachers should have the best tools!"

We believe easy, affordable and excellent tools should be available to everyone. This is our contribution for improving education world-wide. We can provide the FREE version thanks to our BASIC and PREMIUM subscription plans.
Support Us
Developing, running and offering a free service is possible only thanks to the subscription licenses. If you like the service, please consider purchasing a subscription license. If you are interested in supporting our service in other ways or interested in partnerships, please contact us.
Contact
Do you have suggestions or feedback? Please contact us on:

support@whiteboard.fi

Please see the FAQ before sending questions about the service.
Partners
Whiteboard.fi has partnered up with New Nordic School, offering -15% discount on their courses using the code "WHITEBOARD"!
---
News and Updates
Whiteboard.fi is constantly being improved and updated, and many new features are planned for the future. All new features and releases will be announced below.
January 13th 2021
Search and filter students
You can now search and filter student whiteboard list by student name. The student list is also sorted more naturally (when using upper and lower cases).
January 9th 2021
This update includes some small improvements, as well as the possibility to purchase monthly subscriptions.
Monthly subscription options added
You can now choose between monthly or annual subscription.
Pan tool added
A pan tool has been added to the toolbar, so that you can more easily move around when zoomed in.
Lines can now be dashed or dotted
When creating lines, circles or polygons, the lines and border lines can now be solid, dotted or dashed.
Erase background separately
You can now erase the background while keeping the foreground.
Timeout behaviour improved
There were some occurences of connection timeouts while typing longer texts. This has now been fixed.
Canvas improvements
Loads of general improvements in the whiteboard canvas, including better scaling when pasting large images.
December 3rd 2020
This update fixes some minor bugs and changes the behaviour of the trial period. Coming next, is the possibility to draw on student whiteboards.

/ Sebastian, support@whiteboard.fi
Trial behvaiour changed
We have updated the behaviour of the trial period, so that it is automatically applied upon registration. During the trial period of 7 days, you can test the premium functionality. You can, either during or after the trial period, purchase the Basic or Premium subscriptions, or attach a license key purchased by your organization.
Library resolution updated
Old library items, stored using the old resolution, are now applied on the larger resolution. This means they might show up smaller on your whiteboard, but you can easily resize them in your library (by selecting everything and stretching out) and save again. This change was done in order to support better quality images.
Fixed some bugs
Some small bugs were fixed, including co-teaching library loads and push improvements.
November 30th 2020
Whiteboards do now have a higher resolution when using the Basic or Premium subscription plans.

/ Sebastian, support@whiteboard.fi
Improved resolution
When using Basic and Premium plans, the resolution of the whiteboard has been increased. This means better quality PDF uploads and smoother images overall.
November 27th 2020
We have ended the beta testing and opened registrations for anyone. Thank you to all the beta testers - your beta license will expire December 6th 2020. We will shortly send you more information by e-mail.

/ Sebastian, support@whiteboard.fi
Beta testing ended - registrations are open!
You can now
sign up
for a teacher account and
purchase licenses
for our subscription plans. More functionality will be added soon!
November 25th 2020
The first part of the student feedback functionality has been released!

/ Sebastian, support@whiteboard.fi
Give feedback to students
You can now give feedback to students in different ways: write a comment, give quick like or thumbs up or down icons. The student will receive a popup notification with the feedback. Both the student and the teacher can see previous feedbacks and a small thumbnail of the whiteboard of the time of the feedback.
You find the feedback buttons under the student whiteboard in the student popup. Please note, that this is a subscription feature and requires a premium subscription (currently in beta testing).
Coming up, is the possibility to join a live student session and draw directly on the student's whiteboard!
November 23rd 2020
This release includes some minor general improvements and bugfixes.

/ Sebastian, support@whiteboard.fi
Bug fixes and improvements
General improvements in push and save functionalities.
November 20th 2020
The beta testing of new premium features continues. The library has now been published and is available for beta testers.

/ Sebastian, support@whiteboard.fi
Whiteboard library
Create, save and reuse your whiteboards with the new Library function. Easily import any saved whiteboard directly to your session from the library.
November 18th 2020
One of the largest updates ever - including subscription licenses with permanent room URLs, co-teaching and more!

/ Sebastian, support@whiteboard.fi
Subscription licenses
In addition to the FREE plan we now have
BASIC and PREMIUM
plans available, with loads of new features.
Teacher accounts
For the subscription plans, teacher accounts are required to manage your room, library or subscription.
Co-teaching
You can now invite a co-teacher to your Whiteboard room! The co-teacher sees the same as you, can follow the student progress and you can collaborate on the same whiteboard.
Permanent rooms
You can now create permanent room URLs with your own custom room code. This enables you to keep the same link over the whole semester, for easy sharing with your students. The permanent room can be emptied and closed on demand.
Upload PDFs
When you upload a PDF to your whiteboard, the pages are transformed in to different pages and merged into the background. This way, you can let your students make notations or draw on your PDF or slideshow.
Whiteboard library
Coming soon
Create, save and reuse your whiteboards with the new Library function.
Student feedback
Coming soon
Give feedback to student by drawing on the student whiteboard, or by giving quick feedback icons or messages.
Choose visible page
The teacher (and co-teacher) can now choose which page of the teacher whiteboard is currently visible to students. This way, the teacher can work on another page and let another page be visible to students.
View older news...
October 31th 2020
This version comes with a new, massively improved engine - increasing the overall performance of Whiteboard.fi. New exiting Premium functionality is coming soon as well - stay tuned!
Like it? Support the development of Whiteboard.fi on Patreon!

/ Sebastian, info@whiteboard.fi
Performance increase
New storage engine makes the site run smoother.
September 29th 2020
We have successfully moved to new servers (which we had to do earlier than planned). We are currently calibrating them, so there might be some small tweaks during the upcoming days. Thank you for your patience!
Also, we did some small UI improvements (colour picker is easier to find) and re-introduced the eraser tool! :)
Like it? Support the development of Whiteboard.fi on Patreon!

/ Sebastian, info@whiteboard.fi
New automatically scalable servers
We are fine-tuning them the upcoming days to ensure everything runs smoothly.
Eraser tool is back
We heard you :)
Erasing on a vector isn't really what you normally would do, but we reintroduced an alternative eraser tool where you draw using the background color. You can still move objects around, including the erased path, but this should meet your eraser tool expectations.
September 22nd 2020
We are happy to release a completely new version of Whiteboard.fi. See a list of all new features below!
With the release of the new version we're retiring the old 'Simple mode'.
Like it? Support the development of Whiteboard.fi on Patreon!

/ Sebastian, info@whiteboard.fi
New whiteboard editor!
Support for multiple pages (add, remove, and switch between pages)
Please note, that the teacher only sees your current page (and vise versa, the students only see your current active page). This might change with future updates.
Undo/redo buttons
Paste images directly into canvas
Improved stylus support
Better support for different screen sizes (and zoom canvas)
Faster and smoother
Toggle teacher whiteboard (see students on same page)
New Push alternatives (push directly as background image)
IP Addresses and Hostnames
You can now view individual student's IP addresses and hostnames. This can be handy in case of abuse. You can find this information when opening a student whiteboard and clicking the Action button. Note: We don't store this information, so it's available for your session only.
"...but what about the Simple Editor? And where's the Eraser tool!?"
It was time to retire the simple editor, as it no longer fulfilled today's standards. This was also done in order to provide a more streamlined user experience.
As we are working with vectors, there is no place for an eraser in the standard sense. As we draw vectors, you can select them, delete them, resize or rotate them. So in case of a mistake, you can either delete the vector or use the new Undo button.
September 15th 2020
We are growing rapidly, and we're in the process of moving our services to a new provider in order to scale even faster.
In this update we've made some improvements, and also added emojis to keep you happy while you wait for new features!
Like it? Support the development of Whiteboard.fi on Patreon!

/ Sebastian, info@whiteboard.fi
Emojis
You can now add emojis (requires image upload to be enabled)
Scaling in process...
We are improving and scaling everything behind the scenes.
September 7th 2020
A new engine has been installed under the hood! This makes everything run much smoother. We've also introduced a few new features (including music sheets), and reworked the layout a bit moving action buttons to a new toolbar below the whiteboard.
Also, you can now choose to clear only the foreground, keeping the background unchanged. This is especially handy if you're making notations on a background image, and wish to clear it without removing the background. Check out all the new features below!
We're also happy to announce that new Premium accounts are coming soon, including the possiblity to keep permanent and custom room URLs, and possibility to give feedback to student whiteboards! Stay tuned!
Like it? Support the development of Whiteboard.fi on Patreon!

/ Sebastian, info@whiteboard.fi
Improved engine
The new engine is faster and smoother!
Insert music sheet
Quickly insert a blank music sheet.
Copy student whiteboard to teacher whiteboard
Copy the student's current whiteboard and insert it as background on teacher whiteboard.
Improved design
Action buttons have been moved to a new toolbar, and you can now clear the foreground separately.
View user status
You now see icons after the user name, indicating if the user has left the room (a closed door ) or if the user is disconnected/inactive (a user icon with a slash ).
QR codes to join room
QR codes are now available, for easily letting your students join your room.
August 3rd 2020
A quick video guide for how to use the math tool has been released. More tutorial videos are coming in the future!
Also, many new features are under development - and loads of improvements are being made under the hood. Stay tuned for updates!
Like it? Support the development of Whiteboard.fi on Patreon!

/ Sebastian, info@whiteboard.fi
May 26th 2020
You can now save all your student whiteboards as a PDF file! You can find the new feature under the main gear menu (look for "Save all whiteboards as PDF"). You can choose whether you wish to include the teacher whiteboard or not, and you can add a custom note that will be saved in the header of the PDF. The current time and date will automatically be added.
Like it? Support the development of Whiteboard.fi on Patreon!

/ Sebastian, info@whiteboard.fi
Save all whiteboards as PDF
Generate a PDF of all whiteboard images and save it to your device.
May 24th 2020
You can now insert mathematical text, symbols or equations using the new Insert math-functionality! This new feature is available for both teachers and students (if insert images is enabled for students). There has also been some minor improvements to the push functionality, making it more stable on slow connections, as well as some general bug fixes.

/ Sebastian, info@whiteboard.fi
Insert math
Insert math using a simple graphical editor or by using LaTeX code. The math is inserted into the canvas as an image, and can be moved around and resized.
May 19th 2020
A quick update with two new important features: "Slow mode" and "Simple mode". These features can come in handy if you're using Whiteboard.fi on low end devices, or if you're on a slow or limited internet connection.

/ Sebastian, info@whiteboard.fi
Slow mode
The slow mode will disable the automatic save functionality, and only save the whiteboard upon pressing the Save-button. This greatly reduces the use of bandwidth, and can also come in handy if you want your students to publish their works at a certain time.
Simple mode
Simple mode is a more lightweight editor, that can be faster on devices with less processing power. This mode disables some functionality (such as image uploads and moving objects around), but should be used if you feel the canvas is slow. Both students and teachers can toggle this mode on or off, and the teacher can also force the setting to be on.
May 17th 2020
Whiteboard.fi has been updated!
The greatest update since the launch of Whiteboard.fi has been released, and I'm very happy and excited to share it with you!
Listed below are the main new features, and there is more under development. The FAQ and Help section will be updated with more detailed instructions later.

/ Sebastian, info@whiteboard.fi
New whiteboard canvas
The whiteboard canvas has been replaced, and the new canvas comes with many new editing tools, and enables you to move around the objects on the whiteboard!
Image uploads
Image uploads are finally here! You can upload an image and move/resize it, or upload an image as the background. As the teacher, you have the option to toggle image upload functionality on or off for students.
Waiting lobby
You can now use the waiting lobby to control who enters your classroom. There is also an option to lock the classroom when your class has started, preventing new students to join.
Grids
You can now easily insert background grids to your whiteboard. Currently there are two different grid sizes to choose among.
Dual view
The students can now view the teacher whiteboard and his/her own at the same time.
Coming soon: Pause students
You can pause your student whiteboards, disabling their drawing functionality until you enable it again.
Coming soon: Equations
Easily insert math equations using a simple editor or by entering LaTeX code.
May 3rd 2020
New feature released: Push whiteboard to students! This feature allows the teacher to push his/her current whiteboard to all students. This button will erase all the students' whiteboards and replace them with the teacher's current whiteboard. It is also possible to push the teacher whiteboard to individual students. The students will receive a notification when the teacher whiteboard is pushed.
The button is currently located below the teacher whiteboard, but will be moved in the future and grouped together with other upcoming features, such as the long awaited upload image functionality - stay tuned and check this section for update announcements!

/ Sebastian, info@whiteboard.fi
April 26th 2020
Thank you all for your wonderful feedback! More users are using the service every day, and loads of improvements have been made "under the hood" to improve site speed and the overall user experience. Unfortunately, I had some e-mail forwarding issues resulting in some e-mails being lost on the way... So if you've emailed me and haven't received a response - please send your message again!
I'm currently working on many new features, including the functionality to upload images and to push the teacher's whiteboard to the students. Stay tuned, and check this area for future updates!

/ Sebastian, info@whiteboard.fi