Why is it so awesome?
Whiteboard.fi is a simple tool that can be used instantly. By creating a class and letting your students join, everyone will get a digital whiteboard. You as a teacher see all your students' whiteboards in real time, so you can follow their progress. The students only see their own whiteboard and the teacher's.

Whiteboard.fi is an instant formative assessment tool for your classroom, providing you with live feedback and immediate overview over your students.
Instant Access
Setting up a new class whiteboard is lightning fast! No registration or logins needed!
Device Independent
Works on any device - no installation or downloads needed.
Privacy
No personal information is collected, stored, or shared with third parties. Everything is deleted after the room is closed.
Access Control
You have full control of who enters your room by using the waiting lobby. There is also an option to lock your room after your class has started, preventing new users from joining.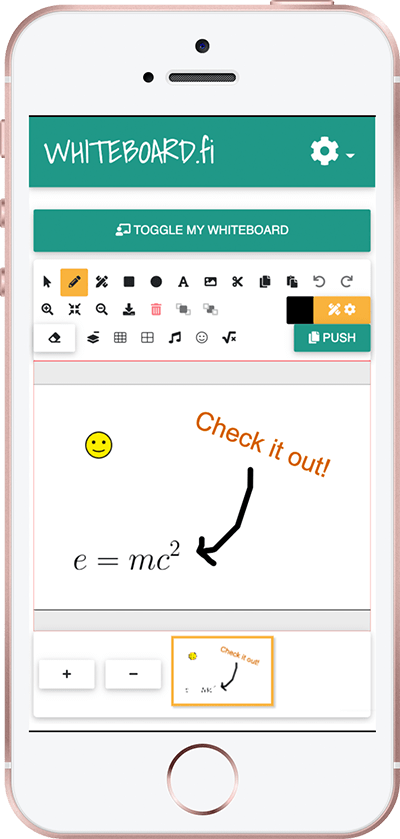 Live Overview
Ask a question, and let the whole class answer by using Whiteboard.fi. This way you will activate the whole class, and everybody gets the opportunity to answer!
Versatile Tools
Insert images, backgrounds, arrows, shapes and texts! There are many different, versatile tools available.
Math
Insert math symbols, expressions or equations easily using the math editor, where you can type using a graphical interface or insert LaTeX code.
Save Whiteboards
You can easily save all your student whiteboard images as a PDF file that can be saved locally to your device.
---
FAQ and Help
Whiteboard.fi is really easy to use. Below you can find answers to frequently asked questions and help topic that can help you get started with the service.
About
Whiteboard.fi is created by me, Sebastian Laxell. It was created as a spin-off project from Ma.fi (also known as Matematik.fi), a digital online mathematics book available in Swedish, English and Finnish. I have previously worked as an elementary school teacher and IT-manager - so I know the struggle in finding good digital tools. I'm currently a full time IT consultant, web developer and entrepreneur.

"It's not about the tools - it's about the teachers. But the best teachers should have the best tools!"

I believe easy, affordable and excellent tools should be available to everyone. This is my contribution for improving education world-wide. If you like it, consider supporting Whiteboard.fi on Patreon to help me keep the service running and develop new features.
Support
Developing and running the services takes time and costs money. If you like the service, please consider helping me keeping the service running by supporting Whiteboard.fi on Patreon. As a supporter you can influence on the development of new features!
Support on Patreon
Contact
Do you have suggestions or feedback? Please contact me on:

info@whiteboard.fi

Please see the FAQ before sending questions about the service.
Partners
Whiteboard.fi has partnered up with New Nordic School, offering -15% discount on their courses using the code "WHITEBOARD"!
---
News and Updates
Whiteboard.fi is constantly being improved and updated, and many new features are planned for the future. All new features and releases will be announced below.
I'm currently working on more advanced features and Premium user accounts, including permanent room urls, saving whiteboards for later reuse and more!
View older news...